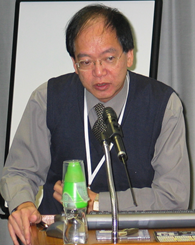 Professor Ming-Hung Wong has published over 503 SCI papers and 32 book chapters, edited 25 books/special issues of scientific journals, and has successfully filed 4 patents. Professor Wong is currently the most cited Chinese scientist according to ISI Web of Knowledge (1 September, 2012) in the area of Environmental Science and Ecology, and has been ranked first in the same area among the top 20 most influential Chinese scientists in the world based on paper citation frequency and the H-index (June 1990 – July 2009).
Professor Wong is Chair Professor of Biology, and Honorary Director of Croucher Institute for Environmental Sciences at Hong Kong Baptist University. His major research areas included environment and human health, ecotoxicological assessment and remediation of sites contaminated with toxic metals and persistent organic pollutants. He has been awarded a DSc Degree each from University of Durham and University of Strathclyde based on papers published 1977-1990, and 1991-2002, respectively.
Professor Wong served as the Regional Coordinator of Central and North-East Asia of the project "Regionally Based Assessment of Persistent Toxic Substances"; and recently joined a panel of three to review "Emerging Chemicals Management Issues in Developing Countries and Countries with Economy in Transition", sponsored by United Nations Environment Program (UNEP) and Global Environment Facility (GEF). Currently, he is Editor-in-Chief of Environmental Geochemistry and Health (Springer).